Season 4 of
Win, Lose, or Blog
will begin in just a couple weeks. If you want to be a contestant and win some a-ma-zing prizes, go apply! We've got some great sponsors lined up for prizes this season! Go check out the sponsor bar and you'll see some of the awesome stuff you could win.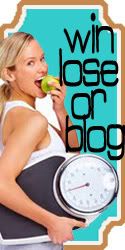 Sorry I've been MIA a little bit the last few days. I'm getting over a sinus infection which means lots of sleeping! But the good news is somehow I managed not to spread the initial cold to my little guy, yay! And a little happy news: I will be enduced in 2 weeks agt the latest :)
And sidenote, if you haven't tried Love Potion from Baskin Robins, you're missing out! They only have it in Feb. and March so go treat yourself :) The hubby and I shared a pint today, mmmmmm. Only a couple weeks left of guilt free eating, I gotta live it up!