I am so excited to introduce you to our new contributors! These are some talented ladies who have a lot to share. There were many great applicants and it was really hard to choose, but these six ladies seem to really have a knack for their area of expertise. I am excited about this change because I think it will fit with my whole theme a lot better. Women Who Do It All was originally intended to have a little bit of everything, but lets face it I'm not good at, or even in to, everything. This way there will be more variety and more expertise involved. I hope you all are excited for the change too!
These lovely ladies will start posting next month, and meanwhile I've got two great giveaways to post in the next week or so (one of which is Down East, I know you don't want to miss that one!) so check back!
Anyways, without further ado, here are the new Women Who Do It All Contributors:
Jocelyn from Inside BruCrew Life will be sharing her cooking expertise with us.
Marcy from Life's Gristle will be blogging about living a healthy lifestyle (and we all need that, don't we?!)

Paige from The Crunchy Mamacita will be teaching us how to live a greener life.
Danielle from Blissful and Domestic will be sharing sewing, organization, and home decor tips. A jack of all trades :)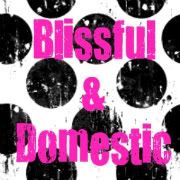 The wonderful ladies from Six Sister Stuff will be sharing their craft expertise with us.
And last but not least, Amy from Living A Radical Life will also be sharing her craft expertise.
Amy doesn't have a button yet,
but her blog is ultra inspiring,
so
click here
to go check it out!
**********
I am so excited to start working with you ladies and become good bloggy buddies! Thanks to all of my wonderful readers for being patient with me this last week as I got all this organized. I still have some work to do on it, but things are getting going. Happy Thursday :)