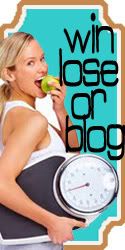 Have you checked out
Win, Lose, or Blog
yet? If you haven't you're in for a treat! Whether you are on a weight loss journey yourself or just want a little inspiration to be healthier, it's a great blog! I am one of the four team members who run it and it's so fun! It's a weight loss challenge, which I think is great for bloggers (we all know we spend a bit too much time sitting in front of the computer, do we not? I know I do!)
Anyways, we have a new team member (Allison from
House of Hempworths
, yay!) and we have contacted some pretty amazing sponsors for this season, so if you've been thinking about applying to be a contestant, now is the time to do it!
Click here to apply
.
If you don't want to be a contestant, go check it out and follow anyways. We've got awesome weekly giveaways, healthy recipes, and a lot of inspiration. Plus it's fun to watch the competition and cheer on our amazing contestants!
Hope to see you over there!